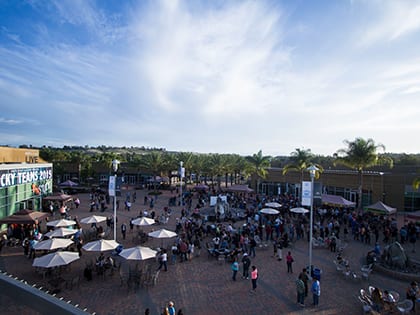 January 2018 will mark two years since a wave of change began sweeping over the city of Ramona, California. That's when residents Mike Jensen and Wayne Mosser approached Senior Pastors Larry Osborne and Chris Brown of North Coast Church with a huge request.
North Coast is a contemporary, multisite church in the coastal city of Vista, California, while Ramona is an agricultural town about an hour east of the church's main campus. Because most of Ramona's churches are older, traditional and small, Jensen says, the town's young people would often drive an hour to San Diego to attend larger, more modern churches—or they wouldn't go to church at all.
"That prevented people from being able to connect," Jensen says. "It made it very hard for them to enter the next level where they could volunteer and connect in home groups."
So Jensen and Mosser asked Osborne and Brown if North Coast would consider opening a fifth campus in Ramona. On a stormy March night at a local theater, about 200 people showed up to an interest meeting. That was all the convincing North Coast needed to plant its Ramona campus at the local high school.
"We started off with a bang and were averaging 400 to 500 in attendance, which blew us all away," Jensen remembers. "We had to go immediately to two services. The Ramona area is home to about 45,000 people, but the average church has about 350 [people], so we're probably the largest work in town. I've been in Ramona since 1973, and I think this was a long-needed, very necessary ministry."
The campus already has reached 500 attendees—and according to Osborne, it's the single largest contributor to North Coast's growth in the past year. Osborne says the church hasn't made any other drastic changes to account for the growth. "We haven't really changed our recipe," he says. "We just keep doing what we've been doing."
But that commitment to reproducing effective methodologies just might have something to do with North Coast's upward trend. Once a new campus is in place, North Coast replicates a few key practices that have been effective at reaching, retaining and discipling people over the last 20 years.
Although the church has a menu of different ministries and initiatives on its website, the church pours most of its efforts into small groups, weekend services and community service.
"We can do those things with excellence," Osborne says. "If we were doing everything, it would all be diffused. We compare it to In-N-Out Burger, which does only a few things, but it does them incredibly well."
Those three things are key. First of all, small groups improve retention. At North Coast, about 92 percent of adults are plugged in to one of the church's sermon-based small groups, Osborne says. That keeps people from leaving out the back door.
Second, North Coast's weekend services appeal to believers and nonbelievers alike.
"Our services are aimed at believers, yet somebody who's never been to church before can understand everything," Osborne says. "It's not seeker-targeted, but we assume 20 percent of attendees have never been to church before, so we use simple language to pull people along. That creates a feel for our regular attendees that it's OK to invite non-Christians."
Third, North Coast's commitment to community service has earned it a reputation as a kind and loving church that also gets stuff done.
"We were missional before it was called missional," Osborne says. "That has a huge impact on the community in terms of our reputation, especially among government leaders, nonprofits and social services. And when you help people in the community, no strings attached, there's a draw to that."
And all of that has proved true in Ramona. Already, more than 100 people have come to faith and more than 20 have been baptized, Jensen says.
"I was in a church in Ramona for 20 years and saw maybe a few people come to faith in a year," he says. "Now, I've seen more than 60 people in six months. It's amazing to see God moving like that."
Read more Outreach 100 fastest-growing church profiles »
NORTH COAST CHURCH
Vista, California
Lead Pastors: Larry Osborne, Chris Brown
Website: NorthCoastChurch.com
Twitter: @LarryOsborne, @_Chris_Brown, @NorthCoastTalk
Facebook: /NorthCoastChurchVista
Founded: 1978
Affiliation: Evangelical Free
Locations: 5
A 2017 OUTREACH 100 CHURCH
Attendance: 11,896
Growth in 2016: +849 (8%)
Fastest-Growing: 67
Largest: 27