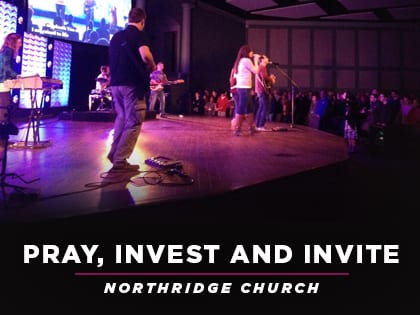 No. 78 Fastest-Growing: Northridge Church in New York Employs Intentional Strategy for Reaching the Unreached
"I used to be an atheist," says Dave Baxter, a 10-year member of Northridge Church in Rochester, New York. "I was a 'Christer.' My wife and children attended a local Catholic church, and I would go two times a year, Christmas and Easter. So one Saturday before Easter, my wife said, 'Hey, let's visit Northridge Church,' and I said something gracious like, 'I don't care.'"
Baxter says that once his family entered Northridge's sanctuary, he felt something he had never experienced at a church before.
"Everyone was friendly, and the pastors were humble and authentic," Baxter says. "They didn't dress differently. They had a sense of humor, and they said they were sinners, and I got all of that."
Another observation Baxter made was that the pastor appeared to take the Bible seriously rather than treating it as a historical document, which appealed to him.
"After the service, I turned to my family and said, 'Let's come back next week.' I never would have said that before," Baxter says. "That was a Holy Spirit thing."
Northridge's primary campus is in Rochester, a city known for its many colleges and universities and its booming innovation and technology sectors. Many people in Rochester, however, do not attend church, according to Scott Bixby, executive pastor at Northridge.
"It's a very unreached community," Bixby says. "Only about five percent of the people in Rochester have any affiliation with any church that is anywhere near evangelical, where the gospel is preached. So, it's a great place to be a missionary."
The church has three campuses, two in Rochester and one in Webster, New York, about 12 miles away. At worship services, dress is casual and praise music is contemporary. The church offers ministries for children and teens and community groups in which members can participate in various outreach activities.
In recent years, Bixby says, church leaders have taken steps to make the church more relevant to attendees. This meant ending certain ministry programs to focus more attention on those initiatives that promoted the church's strategy for "making more and better disciples."
"Our strategy is 'PI-squared,' which stands for 'Pray, Invest and Invite,'" Bixby says. "We do services on it throughout the year, and we talk about it all the time. We're all missionaries. We need to pray for people who are far from God. We need to invest in their lives, and invite them to take steps toward God."
Toward this end, church leadership worked to create an environment where congregants would feel comfortable inviting others to church. As part of that effort, Northridge invested more money and resources in its children's ministry, Northridge Kids, to make it more fun, engaging and "guest friendly."
"We created a program that would be attractive and help us with our PI-squared model," Bixby says. "When people invite their friends, we want it to be such that their kids say, 'I want to go back there, Mom,' as part of trying to reach that family with the gospel."
In addition, Bixby says the church strives to make sure sermons connect with unchurched visitors.
"The teaching is done in a way where it connects," Bixby says. "We've always tried to figure out ways to preach in a way where it's interesting and relevant."
So far, the PI-squared strategy is working. A recent church annual report for revealed that the congregation distributed more than 1,070 guest packs in 2015 and that 80 percent of its attendees invited someone to Northridge.
"God has done amazing work," says Bixby, "and it's been amazing to watch him do that."
Read more Outreach 100 fastest-growing church profiles »
NORTHRIDGE CHURCH
Rochester, New York
Lead Pastor: Drew Karschner
Website: NorthridgeRochester.com
Twitter: @DrewKarschner, @NorthridgeRoc
Facebook: /NorthridgeRochester
Founded: 1889
Affiliation: Baptist
Locations: 3
A 2016 OUTRACH 100 CHURCH
Attendance: 1,950
Growth in 2015: +342 (21%)
Fastest-Growing: 78