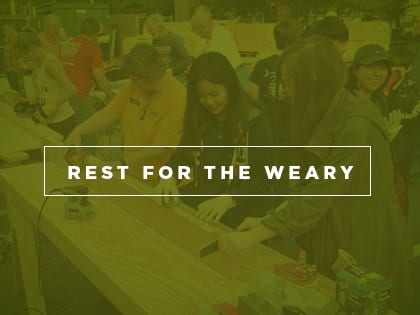 Central UMC's volunteer-led bed ministry provides handmade beds for local children in need.
Last December, three men from Central United Methodist Church (CUMC) in Florence, South Carolina, delivered three handmade beds to the house where a single mother and her three children lived.
The woman had moved in with her parents after losing everything in the floodwaters that swept across parts of the state that year. Her children had no beds of their own.
"The family was just blown away," says local attorney and CUMC member Art Justice. "They were hoping to get one bed, and we gave them three."
Justice's quest to start a bed ministry for children began in 2013 after reading Final Words From the Cross by Adam Hamilton, in which Hamilton described his church's bed ministry.
"I couldn't get the thought of the bed ministry out of my mind," Justice says.
He approached some local businesses for help buying beds, but nothing happened, he says.
"That's when it hit me that I ought to pray about this," he says.
After praying, Justice says he talked with his pastors at CUMC, a church with about 700 attendees.
"They were all enthusiastic about it," says Justice, "and it just snowballed after that."
Afterward, he says he met a North Carolina man whose church designed and built beds to give away using lumber slabs with notches cut into them for easy assembly. Inspired, Justice contacted one of his clients, as well as a sawmill owner, a national nonprofit called Good360 that helped supply him with donated mattresses, and the local school district, which gave CUMC the names of needy children. CUMC members purchased linens, pajamas and toys.
Last October, 55 congregants gathered in the church's parking lot and assembled 27 beds in just three hours.
"It was God's ministry," says Justice. "He just used me and a bunch of other people to make it happen."
Find more ways to serve your community »