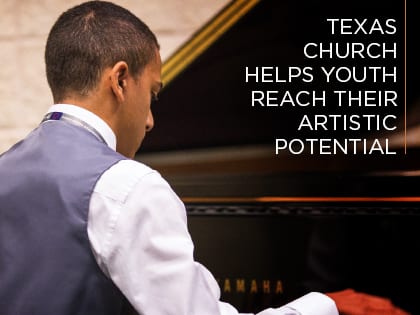 Terrell First Assembly of God Church inspires and equips teens to pursue artistic passions.
When Chris Menard-Denney first started coming to Terrell First Assembly of God Church in Terrell, Texas, he was a quiet teen who stuttered and lacked self-confidence. He also struggled in his faith and was grieving the death of his father.
The student ministry director, Jeremy Cox, asked Menard-Denney about his hobbies and learned that he liked to draw cartoons and play music. With Cox's encouragement, Menard-Denney began to pursue those passions and soon blossomed artistically, emotionally and spiritually.
Cox has walked beside other youth as well, nurturing their faith and strengthening their spirit by inspiring them to pursue their artistic passions—passions that range from dance to drama, singing to painting, photography to drawing. Cox likes helping teens identify and cultivate skills they never knew they had and then displaying them for others to admire and critique.
Last year nearly a dozen youth from the church—which averages 400 in weekend attendance—competed in a district-wide fine arts contest representing 500 churches; four students advanced to the national level where they had the chance to earn scholarship money. The competition creates a brotherhood of sorts as teens build relationships and became a tight-knit unit of support for one another.
Gabriela Vigueras performed in the Spanish female vocal solo category of the competition. "Fine arts have helped me become more outgoing, more open and more in love with worship," says Vigueras. "I've learned how God can really use you no matter where you are."
Menard-Denney has found the same. Not only has he flourished in fine arts, but the power of the Holy Spirit stirred him recently to preach to the congregation about how big God is. "His message and his energy blew everyone away," says Cox. No longer the shy kid, Menard-Denney is living out loud.