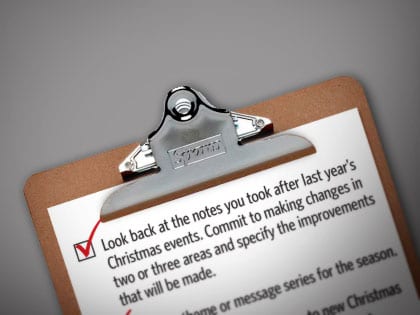 Your Holiday Game Plan: Start Now!
Advent will be here before you know it. It's not too early to start mapping out what the Christmas season will look like at your church and how you will equip your staff and volunteers to make it memorable for guests.
Look back at the notes you took after last year's Christmas events. Commit to making changes in two or three areas and specify the improvements that will be made.
Choose a theme or message series for the season.
With your worship team, listen to new Christmas music—or new renditions of old Christmas music—and pick your songs. Your worship team will appreciate the lead time. Set your calendar: Advent gatherings, Children's program, concerts, services for Christmas Eve, Christmas Day, New Year's Eve, New Year's Day, etc.
Book the staff members you need for each of the events on your calendar.
Find more winter outreach ideas »