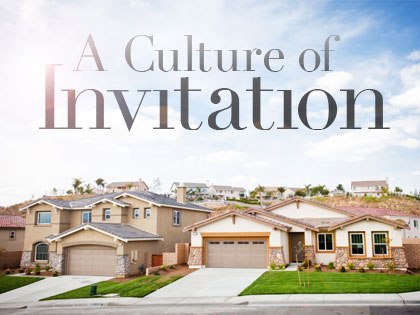 How focusing on existing relationships to invite people to church brought spiritual life to Faith Church.
Shortly after becoming senior pastor at Faith Church in 1992, Pastor Bob Bouwer went door to door and to the malls of South Holland, Ill., with a church leader and asked community members about their religious backgrounds and needs.
"One thing we discovered is that we never met an atheist," says Bouwer, co-author of The U-Turn Church (Baker). "Everybody had a religious background. Yet very few of them went to church."
Armed with that knowledge, Bouwer and other members of the suburban Chicago church prayed, asking the Lord to show them how to reach all these "religiously disconnected" people in their community.
At the time, the Reformed church—founded in 1963—had stagnated with about 250 members.
"The first thing that came to our minds was the belief that if you lift up the name of Jesus, He will draw people to Himself," Bouwer says. "That took a lot of pressure off of us. So we lifted up the name of Jesus and prayed like crazy. We said, 'Lord, please bring people.'"
Secondly, Bouwer began to encourage church members to invite others. Bouwer told his congregation, "You have loved ones, friends, neighbors and co-workers who are religiously disconnected. Invite them to church and into the presence of God."
"If we knocked on hundreds of doors, there is no relationship. These people would be like, 'Why would I go to your church? I don't know you or trust you.' So we said to our people, 'You have relationships with your family members, neighbors and co-workers. Invite them. They trust you.' So we created a culture of invitation."
As church members issued invitations, they became spiritually energized and became the church's "greatest megaphone and proponent of the Gospel," Bouwer says.
"It didn't take long for the invited to become inviters," says church elder Elmer Van Drunen, 78, a retired heating and air conditioning business owner. "It snowballed, and there were a lot of people who came spiritually alive."
Bouwer also learned something interesting from a restaurant survey that he put into practice in the church. When somebody goes to a restaurant for the first time and rates it as a "4" or "5" on a scale of "1" to "5," Bouwer says they will tell up to 24 people in 24 hours how good the restaurant was.
"But if it's a '1,' '2' or '3,' they won't tell anybody," Bouwer says. "And so what we trained our people is that the experience of Jesus Christ, the preaching, the worship, the love and community should be a '5,' and if people come and experience that, they will tell others."
Unfortunately, people's perceptions of many churches are "1," "2" or "3," Bouwer says. To improve, Bouwer says, "It's got to be prayed that way; pray that their experience is that high."
"You have to preach messages that are dynamic, and that requires hard work and evaluation," Bouwer says. "Every minister on our staff is evaluated—preaching-wise. It means the worship music needs to be done really well. Our greeters outside need to be really good—trained, loving and godly people. We want people saying 'wow' in anything we do. Everything has to be 'wow' because we have a 'wow' God."
After growing to capacity, the church relocated to Dyer, Ind., in 2003. As the church grew, it launched its first multisite location in 2007 and the second one in 2009. Today, the church has 5,000 members at five sites with a goal to have 20 sites by 2020.
"The phrase we use is, 'If it's alive, it's meant to multiply,'" Bouwer says. "I say to our elders, 'Are you reproducing yourself?' I say to our volunteers, 'Are you reproducing yourself?' This makes the ministry so much more exciting because that's God's heart. His heart is for reproduction."
Read about more churches that experienced a turnaround thanks to a renewed commitment to outreach:
Revived: How Stagnant or Declining Churches Found New Life
A Church Rebounds With a Change of Heart
New Vision Fuels a Church's Movement
Being Christ's Hands and Feet