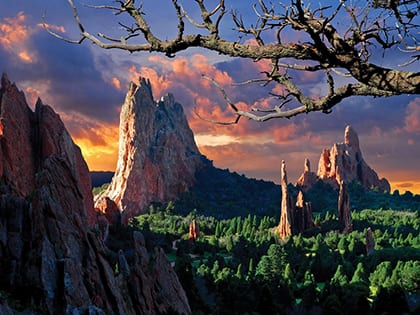 "We grieved. We sang out our holy defiance—'we will overcome this trial we're facing; we will somehow rise again.'"
By Brady Boyd as told to Ashley Wiersma
This month I celebrate my 10th anniversary as senior pastor of New Life Church, a congregation 10,000 people strong in the northern part of Colorado Springs, Colorado. And as is often the case when anniversaries roll around, I have spent the last few weeks reflecting more than usual on the decade that has passed. My stomach still flips a little when I think back on the congregational vote that was taken following my three-week "tryout" for the role—would I get picked? Would they like me? Would I fit in? Once the votes were tallied and the decision came in, my wife, Pam, and I mustered our courage, packed our car with our two kids and all the luggage we could fit, said goodbye to our families, and made the two-day drive from our home in Texas to the Rocky Mountain Front Range, wondering what on Earth we'd gotten ourselves into.
I stood in front of the church on my first Sunday as senior pastor and introduced myself exactly that way—"Hello! I'm Brady Boyd. I'm your new senior pastor!"—sounding every bit as awkward as I felt. Other than my family, I knew exactly nine people in the room that boasted thousands, but those nine faces—four that belonged to the members of the pastoral search committee, four that belonged to friends from Dallas who'd flown in to support me in my new role and my long-time ministry buddy Garvin McCarrell, whom I'd asked to come on board as executive pastor—brought me great comfort that day. Everything was a huge question mark back then: Who were we as a body? What were we called to accomplish as a church—both inside and outside our four walls? What kind of leadership would I need to provide to make sure we stayed on track? What were we in for in the coming days? How was this whole thing going to work?
Thankfully, the awkwardness I felt was short-lived, and things began to click. I rallied together an executive team, and along with our elder board, we began to dream. "We've got to address this debt," I remember declaring. "Until that's gone, we're totally hamstrung." In short order, we put together a debt-alleviation plan, we met and prayed through its details, we presented it to the congregation, and year by year, we watched that debt number fall. What was $26.1 million upon my arrival was slashed to $24 million and then $22 million and then $18 million—eventually dipping to $12 million and change, which is where it stands today. (But not for long, I assure you.)
With the cash that was no longer going toward servicing our debt, we invested in building the Dream Centers of Colorado Springs—first, a women's clinic to serve uninsured and underinsured women who need medical attention; and then a place we named Mary's Home, a 26-unit apartment complex that we completely renovated and filled with single moms and their kids who previously had been living in their cars or on the streets. The women's clinic just saw its 5,000th patient, and Mary's Home just "graduated" its first round of moms who completed the life-skills training courses we offered them and are now moving into their own places and starting jobs—for some, the first of their lives.
We planted churches—in Austin, Texas; in Kansas City, Kansas; in Rock Island, Illinois; and here in Colorado—in Denver, Fort Collins and western Colorado Springs.
We added congregations—in Manitou Springs; in downtown Colorado Springs; in the southern part of our city through our Spanish-speaking church, Nueva Vida; and, at our main campus, both a Mandarin-speaking service and a Friday-night service.
We raised up pastors and teachers and worship leaders through our world-renowned school of worship.
We launched and shepherded thousands of small groups.
We established and grew thriving Sunday-morning "section communities," with the intention of making New Life Church the smallest big church around.
We led people to a decision point with Jesus. We discipled them. We baptized them. We plugged them in to community and loved them well.
And while I could go on regarding the happenings of this past decade, perhaps the more astounding story is what didn't happen. In short, we didn't fall apart. We didn't shut our doors. And we didn't become the used-car lot that everyone fully expected us to be.
When Shots Rang Out
On my hundredth day at New Life—Dec. 9, 2007—I woke to freshly fallen snow and a beautifully uneventful calendar. I'd asked my friend Pastor Jack Hayford to come speak that weekend, which meant that apart from hosting the morning services, the biggest thing on my agenda was enjoying lunch and conversation with him. But that's not at all what went down.
Just after our 11 a.m. service had concluded, a gunman armed with more than 1,000 rounds of ammunition came onto our campus and brutally murdered two teenage girls before entering the building through the children's-ministry hallway and opening fire. As Pastor Jack and I settled in for a light lunch in my upstairs study, all hell was breaking loose one floor below. Unbeknownst to us, rapid-fire shots were piercing the air while parents and children scattered in all directions, their shrieks betraying their certainty that they wouldn't emerge from the scene alive.
My assistant rushed into my office moments later to tell me that shots had been fired in the building and that our security team had insisted I stay put. Feeling utterly helpless, Pastor Jack and I stepped toward the windows to watch the flood of terrified families head for their cars. As that stream of vehicles made their exit, emergency personnel raced to our lots. The crush of firetrucks, ambulances, squad cars and SWAT vans made it clear that we were at war. The gunman would eventually take his own life, after being wounded by a courageous member of our volunteer security team, but the effect of that singular turn of events would live on for years to come.
I stood slack-jawed as those events unfolded before me, my mind numb with incredulous awe. Barely 13 months prior, New Life had suffered the scandalous departure of its founding pastor, a moral failure so epic in its gravity—the drugs, the sex, the political tenor of it all—that it became instant international news. I was serving on the senior team at Gateway Church in the Dallas area at the time, and the other pastors and I were heartbroken as details spilled out. Ted Haggard was the leader of an independent, evangelical, Spirit-filled church; when he was asked to be the president of the National Association of Evangelicals, my colleagues and I had cheered over "one of our own" having finally arrived. His resignation hit me on a personal level—a deeply personal level, ultimately, given the succession situation that would soon emerge.
Anyway, when I'd been asked to serve as New Life's pastor, I knew that a big part of my job would be watering a people that was severely dehydrated, bringing rays of hope to a downcast lot. But that was before a gunman showed up; what were we supposed to do now? Our church had been attacked from within, and now it had been attacked from without. The one-two punch should have spelled death for our church; the Enemy surely meant for it to. If he'd had his way, New Life would have lost her mission, her ministry, her people and her hope. The whole thing would have spiraled downward—and fast.
During those first hours and days following the shooting, discussions among the other pastors at New Life and myself centered on what we assumed would be our new role at the church. Clearly, our best days were behind us—that's how things felt, anyway. The mood in the air was one of hopelessness. Of desperation. Of unthinkable pain. Collectively, we'd serve as hospice caregivers, we decided, our sole aim to give the church a dignified death.
And yet, even as those words of resignation were leaving our mouths, God was bringing to life a new plan. We couldn't see it for what it was at the time, but he was about to gift us all with wild blessings of perseverance—if only we'd choose to persevere.
Grief and Grace
Three days after the shooting, our worship auditorium—the "living room," we call it—was packed to capacity with congregants, city officials and friends of New Life, all of us united in our declaration that despite the terrifying events that had unfolded that week, we would not be governed by fear. As a church, we grieved. We read the Scriptures aloud. We prayed. We cried. We sang out our holy defiance—we will overcome this trial we're facing; we will somehow rise again.
And as we sang, we saw it: There on the scorched earth surrounding us sprouted forth the tiniest of vibrant green buds. It wasn't much, but it was there. Life was on the move.
Five weeks later, the gunman's parents as well as the parents of the two sisters who had been killed convened in my office, their first time ever to meet. The tension in the air was palpable; what would the end result of this session be? Soon enough, I found myself in the presence of four weeping adults clinging to each other in an extended, tangled hug. These were good, God-fearing couples, neither of which could have foreseen these terrible circumstances. Who wouldn't have sympathized with their decision to choose anger instead of compassion, to choose bitterness instead of forgiveness, to choose hatred over others-centered love? And yet there they were, owning their pain while still offering themselves up as a picture of unity and grace.
If those two families could muster the courage and faith to move forward, could any of the rest of us lag behind? A healthy heart brings health to other hearts. We all got better that day.