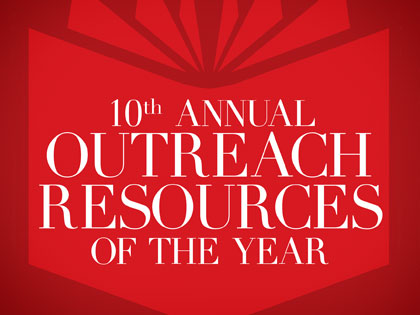 The 10th annual celebration of the best books and curricula in evangelism, missional living, cross-cultural ministry and much more.
For the 10th consecutive year, Outreach magazine is celebrating some of the best outreach-oriented books and curricula by honoring them as Outreach Resources of the Year.
The 22 resources chosen to receive the distinction this year are highlighted in the just-released March/April 2013 issue of Outreach, which also delves into the issues of discipleship and Bible engagement.
"The Outreach Resources of the Year feature is itself a valuable resource for church leaders," said Outreach editor Brian Orme. "It brings deserved attention to resources that can help churches better understand the culture we live in, the dynamics at work in a variety of settings, and how to share the Gospel and reach our communities for Christ."
Nearly 160 resources published between Nov. 1, 2011, and Oct. 31, 2012, were submitted to Outreach for consideration. Outreach editors narrowed the field to 111 and placed them in categories.
The magazine then asked an expert in each category to evaluate the resources and choose what they considered to be the best. View the list now >>
"The expert in each category knows well what makes for a good resource to help churches with outreach," Orme said. "We thank the panelists who gave of their time and expertise this year to make the Outreach Resources of the Year possible."
Each panelist independently evaluated the resources in his or her area of expertise and selected what he or she thought were the best. The experts chose how many resources to recognize in their respective categories.
The 2013 Outreach Resources of the Year are:
Evangelism
Telling the Gospel Through Story: Evangelism That Keeps Hearers Wanting More
By Christine Dillon (IVP)
Apologetics
A Shot of Faith to the Head: Be a Confident Believer in an Age of Cranky Atheists
By Mitch Stokes (Thomas Nelson)
Preaching
Missional Preaching: Engage * Embrace * Transform
By Al Tizon (Judson Press)
Leadership
Center Church: Doing Balanced, Gospel-Centered Ministry in Your City
By Timothy Keller (Zondervan)
Church Transfusion: Changing Your Church Organically From the Inside Out
By Neil Cole and Phil Helfer (Jossey-Bass)
Culture
A New Evangelical Manifesto: A Kingdom Vision for the Common Good
Edited by David P. Gushee (Chalice)
Missional Church
Everyday Church: Gospel Communities on Mission
By Tim Chester and Steve Timmis (Crossway)
The Permanent Revolution: Apostolic Imagination and Practice for the 21st Century Church
By Alan Hirsch and Tim Catchim (Jossey-Bass)
Cross-Cultural
The Post-Black & Post-White Church: Becoming the Beloved Community in a Multi-ethnic World
By Efrem Smith (Jossey-Bass)
Global Outreach
The Future of the Global Church: History, Trends and Possibilities
By Patrick Johnstone (IVP)
Compassion and Justice
Compassionate Justice: An Interdisciplinary Dialogue With Two Gospel Parables on Law, Crime, and Restorative Justice
By Christopher D. Marshall (Cascade Books)
The Global Orphan Crisis: Be the Solution—Change Your World
By Diane Lynn Elliot (Moody)
Missional Living
The Art of Neighboring: Building Genuine Relationships Right Outside Your Door
By Jay Pathak and Dave Runyon (Baker)
Biography
In the Land of Blue Burqas
By Kate McCord, a protective pseudonym (Moody)
Small Group Curricula
It's Not Too Late: How God Uses Less Than Perfect People
By Tony Evans (LifeWay)
Undaunted: Daring to Do What God Calls You to Do
By Christine Caine (Zondervan)
Pass-Along Resources
Empty Promises: The Truth About You, Your Desires, and the Lies You're Believing
By Pete Wilson (Thomas Nelson)
Children
The Action Bible Devotional
By Jeremy V. Jones and Sergio Cariello (David C Cook)
Just a Minute: In the Heart of a Child, One Moment … Can Last Forever
By Wess Stafford with Dean Merrill (Moody)
MEGA Sports Camp: Beyond the Gold
By Gospel Publishing
Youth
The Jesus Survey: What Christian Teens Really Believe and Why
By Mike Nappa (Baker)
Life in 6 Words: The GOSPEL Explored
By Dare 2 Share
The March/April 2013 issue of Outreach also features a conversation between David Platt, lead pastor of The Church at Brook Hills in Birmingham, Ala., and Francis Chan, the founding and former senior pastor of Cornerstone Church in Simi Valley, Calif., about discipleship; an interview with TV producer Mark Burnett about his faith experience and the miniseries The Bible that he created and produced with his wife, actress Roma Downey; and an examination of Bible engagement in society today.
Outreach magazine offers the ideas, insights and stories of today's outreach-oriented, Bible-based churches. Founded in January 2003 by church communications company Outreach Inc., Outreach is an award-winning, bimonthly periodical for church leadership. Each year, Outreach publishes the Outreach 100, a special issue in September that features the 100 Largest and Fastest-Growing Churches in America; the Small Church issue (July/August); and the Outreach Resources of the Year (March/April). Outreach is available by subscription.
View the panelists for the 2013 Outreach Resources of the Year