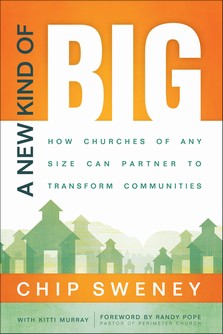 What Went Wrong?
In her book The Old Testament Template: Rediscovering God's Principles for Discipling All Nations, Landa Cope examines the history of missions and asks some hard questions: "Nations are being reached, but the quality of life in most is unacceptable. Why? After nearly two centuries of dynamic influence, how has the church in the last 200 years become so contained? What do we do to restore the power of the Gospel to change lives and communities as it has done in history?" Gabe Lyons, co-author of unChristian, has noticed the same themes and has come to similar conclusions: "Christianity has gained more conversions in America over the last 200 years than any other faith. Simultaneously, Christianity has steadily lost cultural influence despite its rapid conversion growth." Lyons affirms the need for Christians to impact the world through their obedient, personal followship of Christ. But he insists there's more:
The problem is that it is only part of the solution. In a widely distributed briefing that was presented to The Trinity Forum called "To Change the World," James Davison Hunter asserts, "It is this view of culture that also leads some faith communities to evangelism as their primary means of changing the world. …"
Hunter goes on to say, "…the renewal of our hearts and minds is not only important, it is essential, indeed a precondition for a truly just and humane society. But by itself, it will not accomplish the objectives and ideals we hope for." This could explain why Christianity as it is practiced by many well-meaning, admirable Christians in the past decades has failed to have significant traction.

Deploying Christians into their channels of influence in the community is one way—one effective and biblical way—to "uncontain" the church and release it into the world. Lyons believes the church in the last century has been guilty of presenting only half of the story to the world. He reminds us that we must tell the full story of the Gospel. The full story harkens back to creation and God's original plan. The full story embraces God's heart for restoration, not just redemption. And the full story is holistic, making truth an all-encompassing worldview instead of just another religious system.
Missional Communities
As people connect with one another in common and different channels, they will fold into missional communities, where they can be supported through relationships, resources and equipping for the purpose of strategic deployment. As we have discovered through the many opportunities to serve through Community Outreach and Unite!, people most naturally develop community around mission. The camaraderie that forms around a kingdom purpose deepens more quickly than the forced relationships of a new small group that meets only for fellowship.
In an interview titled "Small Groups and the Missional Renaissance," Reggie McNeal says, "When we think about 'missional,' almost everyone thinks about running out and painting a school or fixing up some park or something. The problem, of course, is that if that's just an activity layered on top of our other activities, then there really hasn't been a profound shift in focus—just a shift in activity. Being missional moves us from internal concerns to external concerns. We start every question not with 'What are we doing here?' but 'What is our impact out there?'"
Impact involves leadership. We can do more than influence by simply being a part of any given channel. The church has a stockpile of competent leaders inside its walls whom we must begin to scatter in a strategic manner out into the community. If it is true that the Gospel brings restoration along with redemption, then we must lead the way in movements of restoration. We can do that by connecting, equipping and deploying our people in their channels. Transformation will slowly take place if we do. But we must be more than participants in our culture; we must be conveners of change as well.
Conveners of Change
Many of our partner ministries understand this shift in focus. For example, Street GRACE—the nonprofit dedicated to abolishing the sex trade in Atlanta—is much more than a do-good organization. They raise funds, they mobilize churches, they educate, all with a focus on the heinous crime of sex trafficking in our city (Atlanta is considered one of the top cities in the nation for this industry). But Street GRACE does more. This fledgling initiative has already leveraged its considerable influence by becoming a convener of Atlanta's significant leaders in this area. They work across the board, exerting influence in areas of law enforcement, our judicial system, other nonprofits and churches. From lobbying to street work to "lunch and learn" events with pastors, the staff and volunteers of Street GRACE travel in as many channels as they can. They have learned the wisdom of expanding influence to more than one channel.
In a nationwide move called Operation Cross Country IV, the FBI and local authorities took a big bite out of a big crime. In October of 2009, law enforcement authorities in Atlanta recovered 52 children and arrested 60 pimps. More than 600 people were arrested statewide in this one initiative alone. Street GRACE continually monitors our city's progress in this area. Their website tracks actual arrests and legislative changes. There's no way to accurately measure the impact of the church on this issue, but it's hard to miss the connection between the growing influence of the body of Christ in this area and the response of our city's leaders.
Identifying and targeting these cultural channels of influence where people actually live and work provides a track for this shift in focus to run on. When we tie our mission to a greater purpose, we make the goal of our "impact out there" not only a personal renaissance in individuals' lives, but also a renaissance of our culture.
Open to the Light
While in space, the crew of Discovery lives in a 2,000-cubic-foot compartment with three decks. The shuttle is piloted from there, and most activity is controlled from its consoles, but once the vehicle reaches the space station or the altitude necessary for its mission, the workplace is the cargo bay, by far the largest section of the fuselage. That's where the real heavy lifting takes place. Depending upon the need of the mission, an orbiting space shuttle can be oriented to face toward or away from the earth, with the doors open and the payload exposed to either the sun or the earth. Those doors are fitted with thermal radiators that act as part of the vehicle's climate control system.
Radiating the sun's light and warmth—that's what can happen in orbit when we are positioned to do so. The church has had this as its mission from the beginning: to turn our faces to the Son and absorb His light, then turn toward the world to reflect that same light. While community transformation can happen in a number of ways, the intentional use of our orbits—such as education, health care, business, arts and entertainment, media, nonprofits, government and law/justice—positions us to reflect the Light in strategic ways. Unite! has just explored the tip of the iceberg here. We have energetically served our community in as many ways as we can find, and we're discovering that the capacity of the body of Christ is boundless and the creativity of our sovereign Lord is breathtaking. Who knows what doors will open as we look for new ways to impact our community and our culture?
An ordained pastor in the Presbyterian Church in America, Chip Sweney helped launch the Community Outreach ministry at Perimeter Church in Johns Creek, Ga., in 2002, and serves as metro outreach pastor at the church. He also is the director of Unite!, a network of more than 120 Atlanta-area churches that started in 2003. Kitti Murray and her husband, Bill, live in downtown Atlanta, where they are part of a network of urban church planters.

This excerpt is from A New Kind of Big: How Churches of Any Size Can Partner to Transform Communities by Chip Sweney with Kitti Murray. Copyright © 2010 by Chip Sweney. Used by permission. All rights to this material are reserved. Material is not to be reproduced, scanned, copied or distributed in any printed or electronic form without written permission from Baker Publishing Group. BakerPublishingGroup.com.
A New Kind of Big:
How Churches of Any Size Can Partner to Transform Communities
By Chip Sweney with Kitti Murray (Baker Publishing Group
To order from Amazon.com: New Kind of Big