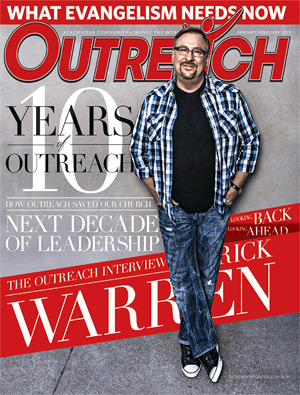 In the Jan/Feb 2013 issue: Enduring Ideas From 10 Years of Outreach, Emerging Leaders, Turnaround Churches, The Outreach Interview: Rick Warren, and more
Inside the Jan/Feb 2013 Issue
10 Years of Outreach
Over the past decade, Outreach magazine has provided a platform for the people and principles shaping outreach in the American church. It has told the stories, interviewed the leaders, championed the innovations and documented the church-tested ideas that are still making a difference across the country.
In this 10th Anniversary Special Issue, we look back and we look ahead. We revisit 10 classic conversations with leaders like Luis Palau, Gabe Lyons, Wayne Cordeiro, Erwin McManus and others, and we talk with 12 emerging leaders helping to shape the next decade of the American church. We also look at four churches that were changed from the inside out once they sharpened their focus on those outside their doors. And in the Outreach Interview, Saddleback founding pastor Rick Warren gives perspective not only on his ministry but on the opportunities and challenges we all face as we seek to reach our community and change the world.
Don't Miss
Enduring Ideas From 10 Years of Outreach
Classic conversations from memorable interviews with Christiasn leaders
Forward Thinking
12 emerging leaders on the challenges and opportunities of the next decade
How Outreach Saved Our Church
4 churches that found new life through a recommitment to loving people and sharing the Gospel
Rick Warren: The Interview
The founding pastor of Saddleback Church looks back. And looks ahead.
ALSO: A new mindset for leaders who set the pace; what evangelism needs now; sacred mission trumps trends; how to activate a vision; Easter outreach and more
Plus, in Each Issue of Outreach
PULSE: We take the pulse of outreach today as we report on what churches are doing to connect with their communities.
IDEAS: Church-tested ideas for seasonal and targeted ministries for any church, any size
VOICES: Trends and commentary on culture, faith and thought
COLUMNS: Perspective on outreach from Ed Stetzer, Dan Kimball, Bobby Gruenewald, Brad Powell and Eugene Cho.