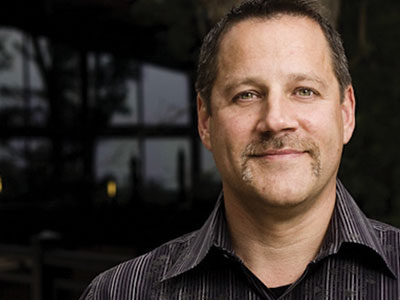 Kevin Myers is the senior pastor of 12Stone Church, Lawrenceville, Ga., a 2011 Outreach 100 church (No. 30 Largest, No. 11 Fastest-Growing)
CONNECTION TO OUTREACH: Kevin Myers is one of the featured pastors in the article "The Transparent Leader" in the 2011 Outreach 100.
KEVIN SAYS:

In the Beginning
12Stone had a very slow start (we finally broke the 200 barrier in our seventh year). Week after week (for many years, I'm ashamed to confess), all I could see were the empty seats. God had to do soul surgery that led to me surrendering: "Kevin, quit measuring yourself by the size of the church. If I want you to lead 80, 800 or 8,000, serve like they matter to Me."
I'm Nervous When …
As a rule, I'm most nervous in front of a crowd when I think more about impressing people than helping people!
I Was Changed When …
In July 2008, I sensed God prompting me to lead an open baptism (which means change the series plan, deliver a salvation/baptism teaching and invite people to be baptized on the spot). I was unprepared to adjust and uncertain how this would play out! But I led the staff team through the redirect, fasted and prayed and made the invitation! By the end of the services, 359 people were baptized! I'd never seen so many moved by God's Spirit! I just wept! Perhaps I was as changed as those baptized!
People Follow When …
People follow freely when you want more for them than from them.
I Regretted It When …
We were in an expansion mode to pay off property, and I told my wife, "We've sacrificed for every expansion effort; it's everyone else's turn. We'll just token give this time." That campaign had all the right mechanics and all the wrong momentum! The numbers from the congregation were weak, the sacrifice was weak, and the joy was weak!
It shook me as a leader. I realized the people had followed in my footsteps! I learned that if I'm 2 percent below white-hot, my inner circle will be 5 percent less, the core will be 15 percent less, the congregation 30 percent and the crowd 50! It's either all-in or all-out. I made the safe choice and regretted it.
HOW TO LINK: Connect with Kevin on Twitter, @KevinMyersPK, on his blog, LeadershipGravity.com, or through the church at 12Stone.com, on Facebook, or on Twitter, @12Stone.
GOT A COMMENT OR QUESTION? Post a comment on this page or send an email.
Each issue of Outreach is designed to bring you the ideas, innovations and resources that will help you reach your community and change the world. Check out our current subscription offer »