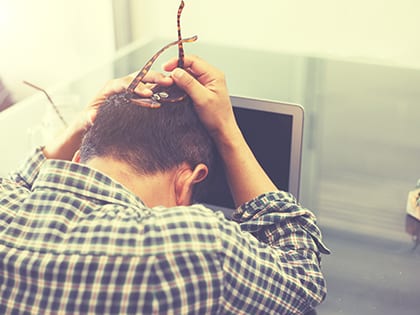 "Our approach has been to spend more time on the front end of preparation, helping students to know themselves."
How are seminaries preparing students for effective, transformative ministry in an ever-changing culture? In this series, we interviewed seminary leaders from across North America to get their first-hand take on what's trending in seminary education.
According to various studies, the burnout rate among pastors is alarmingly high. Has this led your school to recalibrate its approach? If so, how?
LEROY GOERTZEN, Doctor of Ministry Director, Corban University: In my opinion—one that is shared by many others—the burnout rate among pastors includes some reasons associated with the pastors' approach to ministry and their lack of self-awareness, an issue I find alarmingly absent in students who are already engaged in vocational ministry or seeking to be. There are many individuals in pastoral ministry who should not be—and they are almost sure to burnout. Many others have had no significant coaching, mentoring or discipling in ministry under an experienced ministry leader. They are often unprepared for the challenges, conflict and vigor of pastoral ministry.
Our approach has been to spend more time on the front end of preparation, helping students to know themselves, which leads to understanding why they want to devote their lives to church ministry and how they are wired to do so.
KURT N. FREDRICKSON, Associate Dean, Fuller Theological Seminary: Burnout is a serious concern. We address this through intentional work in the area of personal formation. Fuller D.Min. (doctor of ministry) has the slogan "Fire for your ministry; oxygen for your soul." We seek to equip ministry leaders with advanced skills in the art of ministry, which gives them a space to breathe. The curriculum provides opportunities for students to step away from the busyness of day-to-day ministry in order to reaffirm their call, deepen their sense of ministry identity and develop practices that nourish their interior life.
MARSHALL SHELLEY, Director, Doctor of Ministry Program, Denver Seminary: The difference between theoretical theology and experienced theology is one of the reasons we offer classes and even a degree in spiritual formation. Spiritual formation focuses on the way knowledge moves from the head to the heart, from knowing about the fruit of the Spirit to structuring life in a way that allows that fruit to develop.
BOB WHITESEL, former professor at Wesley Seminary: By allowing students to apply the lessons they are learning in class to their ministry and then report back the results to their cohort, they receive quick feedback on what works and what doesn't work. Too often burnout comes because a minister sticks too long with something that doesn't work. By having a cohort-based model, where the same students stay together throughout the entire degree program, there is accountability and authenticity that allows students to encourage and help one another. I have seen this strategy greatly reduce the burnout of pastors.
KEITH S. WHITFIELD, Dean of Graduate Studies, Southeastern Baptist Theological Seminary: Our primary way of addressing this concern is to reinforce spiritual health in our students and help them articulate their ministry calling and conviction. We've added to the curriculum a personal-discipleship and disciple-making course. We've also added to the executive leadership Dr. Chuck Lawless, VP for spiritual formation.
WILLIAM D. SHIELL, President, Northern Seminary: We developed "A New Kind of Preacher" program for seminary graduates to continue their spiritual formation with other pastors. Using the weekly sermon-preparation process, we train preachers to stay in touch with God and each other throughout their ministries.
Read about more trends in seminary education: