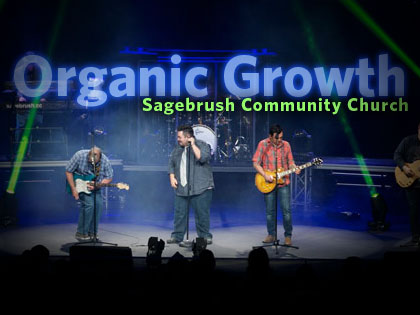 Sagebrush Community Church Opens New Campuses Using a Host Group Model
Kyle Thomas never planned to become a pastor, and Sagebrush Community Church in Albuquerque, N.M., never planned to open a campus in Belize. But God had other plans. As a result, Sagebrush discovered a multisite model that has already launched one additional campus and may lead to others.
In 2010, Sagebrush members Thomas and his wife Cara relocated to San Pedro Island, Belize, for Thomas' job. As lovers of church-based small groups, they began a Bible study in their home since their Belizean church did not offer such groups. They invited three Belizean couples and were soon joined by two more.
Because little support for healthy marriages exists on the island, the Thomases chose a videocast series on marriage by Senior Pastor Todd Cook as their first small group study.
"[The other couples] responded phenomenally to that," says Thomas, noting that they liked Cook's humor and directness.
From there the group kept using Sagebrush resources and sermons and grew even more, moving to Thomas' office when their home reached capacity. With 40-50 people attending a year after the first study, Cara asked, "What if we actually planted a Sagebrush campus?" This launched a season of prayers and conversations with Sagebrush that led to an official affiliation as a Sagebrush site.
Since February 2012, the Belize campus has been meeting in a movie theater, welcoming an average of 200 adults and children from the multinational population of San Pedro and continuing to show Cook's sermons by video and use adapted Sagebrush curriculum for the children's ministry. Groups from the main campus have assisted with outreach projects, too, and Cook preached live at the campus's grand opening.
"This is for God's glory, and it's what God has continued to do on this island," says Thomas. "His hands have blessed this. He's allowed us to be part of it."
As the Belize campus grew, Sagebrush realized that what it now calls its host group model—because people open a home to host a service—might work in Farmington, N.M., too. That's where two Sagebrush couples lived; they were driving three hours to Albuquerque each week to attend services.
Sagebrush helped them develop a strategy and, as in Belize, offered resources for studying the sermon in small groups, studying Scripture independently and recruiting volunteers. In just one year, the Farmington campus has grown from 10 people to 140 and now meets in a Fraternal Order of Police building.
"The beauty of the host group model is it's easy access to start," says Chris Dreier, Sagebrush's multisite director. "It takes people who have a willing heart and are familiar with our brand. We're able to scale up our support as the church grows." He notes that these two sites were the first to be fully self-supporting financially from the beginning.
Small groups were also foundational to building Sagebrush's five other satellite campuses, some of which were overflow-minded in their launch and some of which were launched from a missions mindset. The small groups were brought together in clusters with directors who oversaw the leaders. In two cases, those directors, with relationships already in place with parishioners, became campus pastors when the campuses officially launched.
As Dreier notes, both models provide a great way to raise people into ministry as campuses develop. Planting new sites "comes down to two words for us: leverage and relationship. It's everything you love about Sagebrush (leverage), in your community (relationship)."
SAGEBRUSH COMMUNITY CHURCH Albuquerque, N.M.
Website: Sagebrush.cc
Senior Pastor: Todd Cook
Founded: 1999
Affiliation: Southern Baptist
Locations: 8
Attendance: 11,000