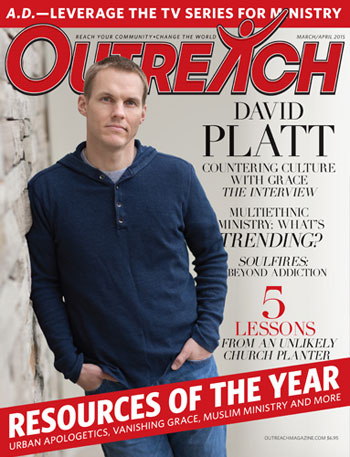 The 12th Annual Resources of the Year Issue—Buy It Now!
The March/April 2015 issue features the year's best resources for outreach.
Evangelism, apologetics, cross-cultural ministry, leadership—each year the Outreach editors, with the help of an expert panel, selects some of the most significant outreach-oriented resources from the dozens submitted by publishers. This year we present the best in 14 categories with comments and excerpts. This issue also highlights church planting, Easter outreach ideas and The Outreach Interview with best-selling author David Platt, challenging us to counter culture with grace and live life in radical discipleship. Plus perspective from columnists and contributors Ed Stetzer, Dan Kimball, Bobby Gruenewald, Brad Powell and others.
Don't miss this valuable resource for your ministry.