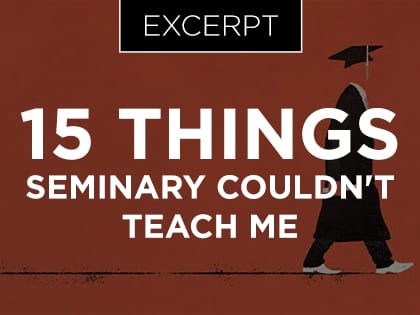 I thought I'd found the job that was the culmination of all God's plans for me, but God had other, better plans.
The Temptation to Make a Name for Myself
And do you seek great things for yourself? Seek them not. (Jer. 45:5)
Sometimes the most loving thing God can do is give you your dream job and then take it away.
Dream Come True
The phone call came in 2007. At the time, I was in my fourth year of pastoring and leading a growing, energetic, missional church in St. Louis. As a leader, I felt fulfilled. I met regularly with a couple of local pastors—Darrin and Andrew—who were becoming like brothers, and we were dreaming about how we could bless our city together. I got to teach homiletics (preaching) at Covenant Theological Seminary, which was a joy. Our daughters loved their schools and their friends and were enjoying their childhood. Our friendships were deep and meaningful. Grandma and Grandpa lived two miles away, and we were a half day's drive from the rest of our extended family. Our intentions were to stay in this place, doing this work, together with these people, for the rest of our days.
Then New York City called.
I had been a church planter and pastor for more than a decade. Tim Keller, founding pastor of New York's Redeemer Presbyterian Church, had influenced my preaching, pastoring and ministerial vision more than everybody else combined. Since seminary, I had carefully studied Tim's teaching, vision and leadership. Along with this self-directed "distance learning" from a "faculty" of one came a growing attraction to ministry amid the urban core.
Tim had heard about me through Redeemer's executive director, Bruce Terrell. Together, they were searching for a senior leader for the church's vast network of small groups. With the role also came the possibility of entering Redeemer's preaching rotation and, if the leading and preaching went well, becoming an eventual successor to Tim.
After nearly six months of prayer, counseling and wrestling through the implications of moving our family to New York City, Patti and I accepted the call. In almost no time, we sold virtually everything and moved our family of four into an 850-square-foot, two-bedroom, one-bath apartment on Manhattan's Upper West Side. We fell in love with New York, Redeemer and the community God had placed around us. The small groups ministry reached record participation, and I was invited into the preaching rotation. After four years of being shaped and groomed for long-term ministry in the city, I was selected to be a lead pastor and one of Tim's four eventual successors.
The first time I heard John Wesley's famous "Covenant Prayer" was at the lead pastor commissioning service:
"I am no longer my own, but yours. Put me to what you will, rank me with whom you will; put me to doing, put me to suffering; let me be employed for you, or laid aside for you, exalted for you, or brought low for you; let me be full, let me be empty, let me have all things, let me have nothing: I freely and wholeheartedly yield all things to your pleasure and disposal. And now, glorious and blessed God, Father, Son and Holy Spirit, you are mine and I am yours. So be it. And the covenant now made on earth, let it be ratified in heaven. Amen."
Then It All Changed
As Wesley's words were prayed that night over the four of us, I did not realize how prophetic the "surrender" parts would be for Patti, our daughters and me. Within one year, the succession plan changed. For reasons related to timing, sustainability and strategy, it became clear to the elders that Redeemer would need to adjust its plan for four congregations to three and, therefore, from four lead pastors/successors to three. Nobody had planned for it to work out this way, but sadly, it did. Although Tim and the elders explored several options to ensure that all four of the original lead pastors remained part of Redeemer's future, after much prayer and counsel, one of us ended up resigning—me. It felt like the right thing to do, given the circumstances, but it was devastating. I cried, Patti cried, our children cried, our friends cried.
In retrospect, I can see many reasons why God gave me my dream job in my dream city for a time, only to take it away. One reason is that my current role at Christ Presbyterian Church in Nashville has, in just four years, far exceeded any previous dreaming I had done about other roles in other cities. We are now, more than we could have ever imagined, home in Nashville. And in a way, we have been "given back" the dream job—but also much more. Christ Presbyterian, it turns out, was instrumental in sending Tim and Kathy to New York City to start Redeemer three decades ago. And now, having been shaped by Tim's vision more deeply after serving alongside him for five years, I am able to bring many of the valuable things I learned in New York to Nashville, which, for all intents and purposes, is becoming the type of city we left.
Even The New York Times has referred to Nashville as "The Third Coast," due to its creative, entrepreneurial, culture-making and urbanizing trajectory. Formerly known as a buckle of the Bible Belt, Nashville is swiftly becoming the Athens of the South—a bustling, energetic city whose influence reaches far beyond its own borders. I now understand more fully what Tim said to me in our final breakfast before we left New York: "Scott, we are sad to see you go. But it makes a lot of sense. You are going to Nashville from Nashville's future."
God's Ambitions Are Better Than Mine
In keeping with Wesley's prayer, the New York experience also brought home the truth that I am not my own but have been bought with a price, and that God's ambitions for my life, whether I understand them or not, are always superior to any I might have for my life. Indeed, it is God's prerogative to do with my life, my family and my ministry whatever he chooses.
"Put me to what you will . . . let me be employed for you, or laid aside for you."
Thank you, John Wesley. And thank you to the suffering Job and the suffering Jesus. The Lord gives and the Lord takes away; blessed be the name of the Lord (Job 1:21). Lord, "not my will, but yours, be done" (Luke 22:42).
The New York experience also taught me a lot about the nature of ambition, which can be godly and pure, but also self-serving and corrupt. It taught me that I am, on the one hand, a bit like Peter, who, wanting to please his Lord, gladly left everything to follow him (Matt. 19:27–29). On the other hand, I am also a bit like Simon the sorcerer.
Remember him? Simon's ambitions, unlike those of Peter and Paul, were self-serving and corrupt. Simon wasn't interested in Jesus using him as a servant for God's glory. Instead, Simon wanted to use Jesus as a servant for Simon's glory:
"When Simon saw that the Spirit was given through the laying on of the apostles' hands, he offered them money, saying, 'Give me this power also, so that anyone on whom I lay my hands may receive the Holy Spirit.' But Peter said to him, 'May your silver perish with you, because you thought you could obtain the gift of God with money! You have no part nor lot in this matter, for your heart is not right before God.'" (Acts 8:18–21)
I wish it were difficult for me to relate to Simon. Unfortunately, it's not. In some ways, my emotional attachment to New York revealed a similar heart in me, one that in certain ways was not right before God.
Just before my resignation, I had an emotional meltdown that lasted for more than three months. I wasn't merely disappointed, which would have been legitimate; I was devastated. I wasn't merely upset, which would have been legitimate; I was crushed. I couldn't sleep at night. I lost my appetite, and with it, between twenty and thirty pounds. I was anxious and depressed. Had I truly been open-handed toward God with all of my dreams and hopes and ambitions, had I truly believed the writing of my story belonged to God and not to me, then the thought of walking away from my dream job, though deeply disappointing, would not have wrecked me to the degree it did.
Tell me more about this book »
Order this book from Amazon.com »
Content taken from 15 Things Seminary Couldn't Teach Me edited by Collin Hansen and Jeff Robinson Sr., ©2018. Used by permission of Crossway, a publishing ministry of Good News Publishers, Wheaton, Il 60187, Crossway.org.