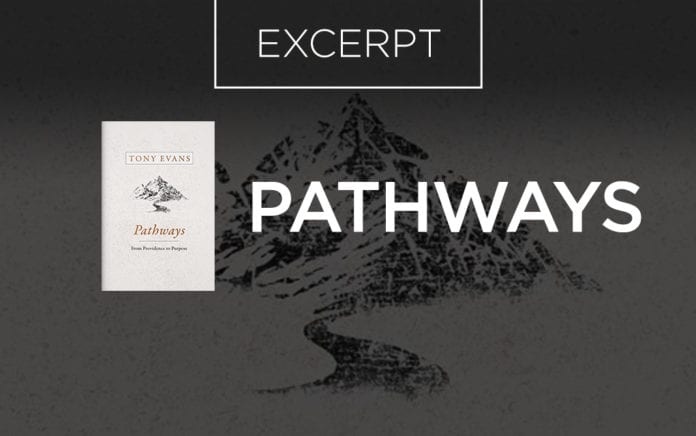 Even when we cannot see God at work in our world, he is sovereignly orchestrating everything.
Excerpted From
Pathways
By Tony Evans
Have you ever felt like Job? Job, the main character of that Old Testament book who lost everything?
Like Job, you may scratch your head and whisper quietly enough so that no one around you hears your fear. Like Job, you may wonder where God even is. Like Job, you may mumble quietly, "But if I go to the east, he is not there; if I go to the west, I do not find him. When he is at work in the north, I do not see him; when he turns to the south, I catch no glimpse of him" (Job 23:8–9).
Job felt alone. Job felt forgotten. Job felt forsaken by God himself.
Have you ever felt like Job? If we were to be honest, we all have. It's human to feel this way. God's seen it before. He knows our frame. He knows we are just modified dust (Ps. 103:14). It is in those times when we just want God to show up with some skin on so he can let us know he is still there. It is in those times when we reach for him, but like the wind, he escapes our grasp. It is in those times when his invisible hand eludes us even while his words continue to urge us to keep walking the path he has called us on. But do we take the next step? Do we walk in faith? Or do we refuse to move forward, wanting instead to hear our own version of the whispered words we've read on the dusty pages of Scripture where God lets it be known he is there? Words such as:
"Do not fear, for I have redeemed you; I have called you by your name; you are mine. I will be with you when you pass through the waters, and when you pass through the rivers, they will not overwhelm you. You will not be scorched when you walk through the fire, and the flame will not burn you. For I am the Lord your God, the Holy One of Israel, and your Savior." —Isaiah 43:1–3a
"I will be the same until your old age, and I will bear you up. I have made you, and I will carry you; I will bear and rescue you." —Isaiah 46:4
"I will go before you and will level the uneven places; I will shatter the bronze doors and cut the iron bars in two. I will give you the treasures of darkness and riches from secret places, so that you may know that I am the Lord. I am the God of Israel, who calls you by your name." —Isaiah 45:2–3
"Be strong and courageous; don't be terrified or afraid of them. For the Lord your God is the one who will go with you; he will never leave you nor abandon you." —Deuteronomy 31:6
"Haven't I commanded you: Be strong and courageous? Do not be afraid or discouraged, for the Lord your God is with you wherever you go." —Joshua 1:9
We long to hear something like that. Anything, really. Assurances from God to let us know that he knows where we are and where he is taking us. Assurances that we should not be afraid, but rather have courage and rest in his presence and power. Even when it seems as if he is nowhere to be found.
If you have ever felt like that, my friend, you are not alone. In fact, it is such a common occurrence that God speaks a lot about it in his Word. There is even a theology tied to his invisibility. It is a theology known as providence.
The providence of God—a doctrinal subset underneath the overarching doctrine known as sovereignty—is such a critical spiritual truth that knowing and living by it can radically transform your life. When you are able to discern how God providentially works in history as well as in the present, you are able to move along the pathways of life with a purpose and intention that will propel you forward. Even in those moments, days, weeks, months or even years when you don't seem to see God, feel God or hear from God at all, you will know that he is pulling the strings behind the scenes. He is the Great Puppet-Master, directing your divine destiny on this stage called life. Knowing this will enable you to make choices according to his will and kingdom agenda, rather than out of your own reaction for self-preservation or control.
In fact, one of God's chief theological attributes is his sovereignty. Sovereignty simply refers to his rulership over all of his creation. According to Ephesians 1:11, he does all things after the counsel of his own will. In Romans 11:36 we read, "For from him and through him and to him are all things …"
Absolutely nothing escapes his rule and influence. God is in charge of all things because he has created and sustains all things.
Thus, as we start our journey together through the depths, clefts and mountaintops that make up God's providential terrain, understanding his kingdom gives us the markers which guide our travel. But to understand God's rule, we must first understand what he rules: His kingdom.
Now, if you are an American, you are most likely an American because you were born here. If you are a part of the kingdom of God, it is because you have been born again into his kingdom. The reason why you do not want to miss a full comprehension of the kingdom as you seek to understand providence and sovereignty is not only because it affects your understanding of these two things, but it also is the key to understanding the entire Bible. The unifying central theme throughout the Bible is the glory of God and the advancement of his kingdom. The conjoining thread from Genesis to Revelation—from beginning to end—is focused on one thing: God's glory through advancing God's kingdom.
When you do not understand that theme, then the Bible becomes disconnected stories that are great for inspiration but seem to be unrelated in purpose and direction. The Bible exists to share God's movement in history toward the establishment and expansion of his kingdom highlighting the connectivity throughout which is the kingdom. Understanding that increases the relevancy of this several thousand-year-old manuscript to your day-to-day living, because the kingdom is not only then, it is now.
Throughout the Bible, the kingdom of God is his rule, his plan, his program. God's kingdom is all-embracing. It covers everything in the universe. In fact, we can define the kingdom as God's comprehensive rule over all creation. It is the rule of God and not the rule of man that is paramount.
Now if God's kingdom is comprehensive, so is his kingdom agenda. The kingdom agenda, then, may be defined as the visible manifestation of the comprehensive rule of God over every area of life. That has serious implications for us. The reason so many of us believers are struggling is that we want God to bless our agenda rather than us fulfilling His. We want God to okay our plans rather than our fulfilling his. We want God to bring us glory rather than us bringing glory to him.
But it doesn't work that way. God has only one plan—his kingdom plan. We need to find out what that is so we can make sure we're working on God's plan, not ours.
The Greek word the Bible uses for kingdom is basileia, which basically means a "rule" or "authority." Included in this definition is the concept of power. So when we talk about a kingdom, we're talking first about a king or a ruler. We're talking about someone who is in charge. Now if there is a ruler, there also have to be "rulees," or kingdom subjects. In addition, a kingdom includes a realm; that is, a domain over which the king rules. If you're going to have a ruler, rulees and a realm, you also need kingdom regulations, guidelines that govern the relationship between the ruler and the subjects. These are necessary so that the rulees will know whether they are doing what the ruler wants done. Finally, there are also rebels. All of us begin rebelling against the rule of God; it takes his softening work in our hearts to turn us from rebels into rulees.
God's kingdom includes all of these elements. He is the absolute Ruler of his domain, which encompasses all of creation. Likewise, his authority is total. Everything God rules, he runs—even when it doesn't look like he's running it. Even when life looks like it's out of control, God is running its "out-of-controlness."
Tell me more about this book »
Order this book from Amazon.com »