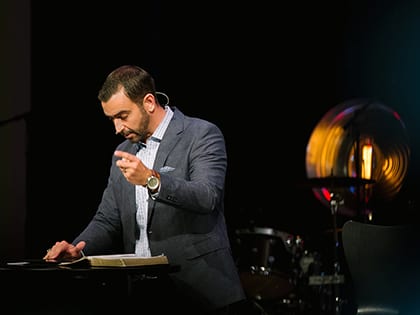 No. 10 Fastest-Growing: Minnesota's Berean Baptist Church Sees Unexpected Growth
When a pastor of 23 years steps down from a church, dynamic growth isn't expected to follow. While many churches would see a decline in attendance, this was not the case for Berean Baptist Church of Burnsville, Minnesota.
"This is terrible to admit, [but] our growth happened with us being unprepared for it," says Wes Feltner, current leader of the 50-year-old church. "I assumed that we'd go backward before we ever moved forward, but the exact opposite happened."
Located about 25 minutes south of downtown Minneapolis, Berean started with just a handful of families in an area that was completely undeveloped. The suburb grew up around them. Today, the church is located in a residential area but carries a county-road address.
Roger Thompson, the previous pastor, realized four years ago that the church had plateaued.
"Roger, with great humility and a real servant's heart, wanted to do what was best for the church," Feltner says. "He didn't want to retire or not be at the church. He wanted to stay on staff."
After an extensive search, Feltner came on board 2½ years ago, and Thompson took the role as teaching and men's ministry pastor.
"The church worked through a very healthy process of transition," says Feltner, who appreciated having this long-time servant be a part of the church. "It's amazing to be in a position where the pastor of 23 years is still on staff, serving alongside me, and it's not a conflict."
Feltner says the church remains committed to the gospel. "We strive hard every week to get people to see life through the lens of the gospel," which is not just a message but "an entire paradigm for viewing life," he says. His messages are often hard-hitting but presented with real creativity, using media and props. "We try to hit at a whole variety of learning styles."
Although he certainly would not take any of the credit, Feltner says that within a few months of taking over, the church began to see something of a renewal. "The energy and the excitement and the hunger of the people who were already here started spreading out," he says.
The church already had a good reputation in the community, but there was a sense that something special was happening. "I hear from people in the community who say the word on the street is you've got to go see what's happening at Berean," Feltner says.
People began to not just come and see, but to stay and serve. By August 2014, the church added an additional service on Saturday, and they kept growing and adding seating space on Sunday. "We renovated our gymnasium into a worship venue, which is fully live. The service is broadcast into that venue," says Feltner, noting they also recently added a satellite campus at a middle school about seven miles south and plan to launch another location in the near future. "Much of this has been reactionary because people keep coming."
One of those people is Michelle Nordwall, who started attending after her life was rocked by a divorce that she calls "an earthquake" in her life. She is convinced that the Lord led her to visit Berean. "That first Sunday, I immediately knew this is where God wanted me to be," she says.
Nordwall quickly became involved on the prayer team and facilitates groups, and has been on a mission trip to China. "God has healed me at Berean," she says. "He has taken the ruins of an earthquake and built them into beautiful things."
Even though Feltner says he can't really explain the season of growth the church is in, "I think I'm OK with it being unclear and saying that we're going to keep being faithful to the gospel, do the best that we can do and just watch what he does."
Read more Outreach 100 fastest-growing church profiles »
BEREAN BAPTIST CHURCH
Burnsville, Minnesota
Senior Pastor: Wes Feltner
Website: BereanBaptist.com
Twitter: @WesFeltner, @BereanMN
Facebook: /BereanBaptistMN
Founded: 1963
Affiliation: Baptist
Locations: 2
A 2017 OUTREACH 100 CHURCH
Attendance: 2,637
Growth in 2016: +669 (34%)
Fastest Growing: 10