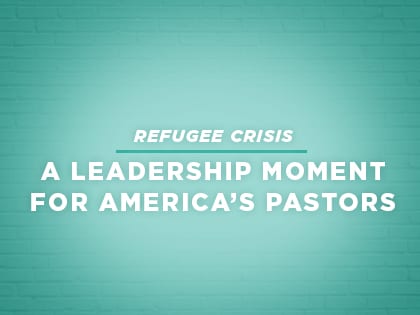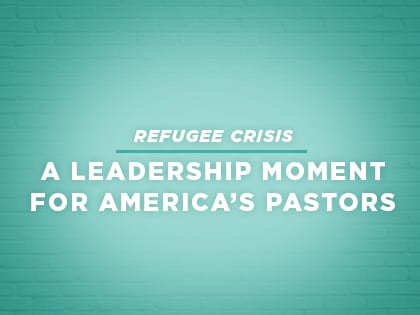 Bill Hybels & Rich Stearns: "Let us not miss this chance to lead with Jesus' love and compassion."
Picture a sprawling, barbed-wire-topped chain-link cage full of 85,000 people. Thousands of tents crowd into this space of just a few miles, alternately dusty and muddy, where basic services are stretched miserably thin. The families living here used to be doctors, lawyers, teachers, airplane mechanics. But now they have nothing. And they're resigned to being here indefinitely.
That's the situation for Syrian refugees in Jordan, who have fled civil war in their country. We've both seen poverty and hardship close up—this is suffering of a different kind.
The Syrian refugee crisis is the worst humanitarian emergency of our time. Twelve million people—the population of San Diego, Dallas, San Jose, Austin, Jacksonville, San Francisco, Indianapolis, Columbus, Fort Worth, Charlotte, Detroit, Seattle, Denver and Washington, D.C.—have fled extremism and the horrors of war. Violence continues unabated, including last month's bombing of a displaced people's camp in northern Syria.
And Americans are reacting either with indifference or fear over the risks of helping refugees.
We understand; pastors are in a quandary. They know the Bible specifically commands Christians to care for strangers, aliens and those in need. But to their congregations, this is happening far away. And it largely affects Muslims, just when political rhetoric calls for suspicion rather than compassion toward them.
But this is a moment for bold leadership. Christian leaders must call the faithful to our global mission to care for the most vulnerable people, which today means an entire generation of refugee children in peril. It's also an opportunity to show the love of Christ to refugees and an entire hurting world. If the American church stays on the sidelines of the greatest humanitarian crisis of our time, it risks becoming irrelevant.
That's why World Vision and the Willow Creek Association have established a partnership to inspire thousands of Christian leaders to engage in the global refugee crisis, helping more than 60 million refugees, many of them children.
We believe this is one of those defining moments where the authenticity of our faith and its relevance in the world are at stake. It is a faith compelled by God's love and founded on the principle of loving our neighbors—all of our neighbors—as ourselves.
Throughout Scripture, God calls his people to care for those who are most in need. In God's commands to ancient Israel, he says, "The foreigner residing among you must be treated as your native-born. Love them as yourself, for you were foreigners in Egypt" (Lev. 19:34). In the gospel story of Jesus' childhood, we see that Jesus himself was forced to flee his homeland in order to avoid being killed by a brutal dictator. Jesus identified with the oppressed: "For I was hungry and you gave me something to eat. I was thirsty and you gave me something to drink. I was a stranger and you invited me in" (Matt. 25:35). Jesus is among today's refugees from Syria, Afghanistan, South Sudan and elsewhere.
We've seen that when leaders step out for justice, even amid controversy, they'll find that people are surprisingly eager to follow. In fact, many churchgoers may be ahead of their pastors on this issue. World Vision's November 2015 survey found that three-fourths of Christians in the United States were willing to help refugees. But according to a LifeWay survey, only 35 percent of pastors have raised the issue from the pulpit.
Churches and faith-based organizations represent the majority of those on the front lines of this crisis. In December, hundreds of churches held a National Refugee Sunday to fundraise for refugees. Many denominations and Christian organizations are on the ground in the Middle East serving displaced Syrian families. World Vision, operational in Jordan, Lebanon, Turkey, Iraq and Syria, has reached 2 million refugees since the beginning of the crisis in 2011.
Still, the church should be doing so much more to meet the tremendous needs of the world's refugees. Our shared calling is to open the way for pastors who want to lead their congregations to help.
The Willow Creek Association connects with 6,000 of the largest U.S. churches and 18,000 churches globally, and will serve more than 305,000 leaders at the Global Leadership Summit in 2016 alone. World Vision's 45,000 staff are operational in nearly 100 countries around the world. Together, we represent a radical Christian response to the greatest needs of our day and can serve as an on-ramp for churches wanting to help.
God has given us a remarkable opportunity to demonstrate the love of Christ in the Holy Land and around the world. It starts with Christian leaders standing against messages of hate and fear. Let us not miss this chance to lead with Jesus' love and compassion.
Read more about the global refugee crisis »
Bill Hybels is pastor of Willow Creek Community Church and Rich Stearns is president of World Vision U.S.