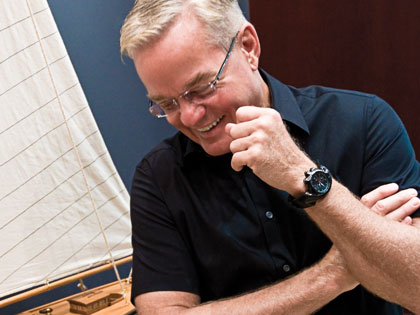 Willow Creek Community Church was approaching its 35th anniversary when Outreach interviewed Senior Pastor Bill Hybels for the November/December 2010 issue. Hybels was just 19 when he founded the church, which now attracts more than 24,000 attendees to its five suburban Chicago campuses. In the interview, excerpted below, he reflects on the beauty of the local church and the challenge of hearing and responding to the whisper of divine leadership.
I have a little mantra: There's nothing like the local church when the local church is working right. When the Holy Spirit is in charge, and when God's anointing power is on a church, lost people are getting found, and found people are growing up, and lonely people are getting enfolded, and bored people are finding a purpose and a cause, and the poor are being cared for. To me, when that's all happening, prompted and empowered by the Spirit as opposed to fueled by human power, that is the most beautiful activity I've ever witnessed.
The central work of diligent leadership is to move people from "here" to "there." And that is primarily a work of stimulating a person's imagination. The role of the leader is to say, "Here's where we are at" and then to ask the question, "Where is 'there'?" The leader's job is to describe this future in such a way that produces passion in people, igniting their enthusiasm to the point where people say, "I no longer want to stay 'here.'" Here sounds unconscionable compared to there. A lot of that was what Jesus was doing when He would say, "You've often heard it said, …" which describes a current reality, "But I say to you, the kingdom of God is like …" That's the there. Leaders need to offer people the opportunity to move out of a current reality by understanding the there—a kingdom reality of what heaven is really like right here on earth. Then they need to develop a practical plan and resources that allow people to begin the journey from here to there.
If you tell people, "Let's all fast and pray and volunteer and give of ourselves sacrificially so that things will remain the same," no one will care. Where there is no vision, the people perish. You have to present the ideal. The overarching idea in the two kingdoms is the competing ideals—one of self-seeking, the other of self-giving. These, obviously, are very different directions, producing very different fruit. To gain a sense of movement in the hearts and minds of people, you have to paint the lofty ideal of the kingdom value and impact of self-giving. At the same time, just giving people the lofty ideal is not enough. Leadership must gauge what aspirations and impact they hope will be operative in the community in 12 to 24 months through such a ministry.
The work of God in the world is ever-evolving. Ecclesiastes 3 says there's a season for everything, and that applies to different types of ministry. There have been times at Willow when we had initiatives that were very important for that decade, and it accomplished what it was supposed to, and then we would move on. Someone who listens to God and finds another prompting often leads to another wave of ministry focus with new relationships and new causes. That's as it should be. There's a kind of rhythm and life cycle in the vision of a church. While some ministry represents a lifer for the church—things such as racial reconciliation, alleviating suffering and preaching the Gospel—other ministry programs or focuses should be allowed to run their course.