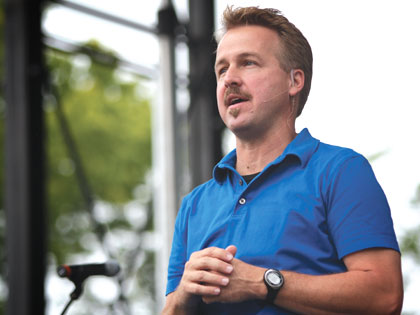 One church in one place is not going to get the job done, not the way Jesus described it. We have 12 locations in Chicago, with three more that will be opening soon, and through our NewThing Network, we have 125 churches—both nationally and internationally.
[In our experience,] reproducing churches required everyone to have an apprentice. Apprenticeship is a better way to express what we commonly call discipleship. Discipleship typically connotes to people, "If I learn more stuff and know more about Jesus, that makes me a better disciple." Apprenticeship is both the knowing and the doing.
Reproducing was proactive and not reactive. When we saw the opportunity to reproduce this new leader, this new team, this new service, this new church, we did. Most churches wait until a small group gets to a certain size and say, "Now we gotta reproduce." We didn't wait until circumstances dictated we reproduce.
Reproducing is about leader readiness, not about size. If the Holy Spirit's prompting you to move to this place or do this thing, let's do it. We challenge every one of our [New Thing] churches to have one leadership resident for a year, basically a church planter in training.
The average church leader and the average person don't understand why movement is important and originally part of Jesus' vision. The reason is that movement is how you get the mission accomplished. The only way that happens on a large scale is we relationally begin to invest in other people one person at a time.
—As told to Nadra Kareem Nittle
This article originally appeared in the September/October 2012 issue of Outreach magazine.