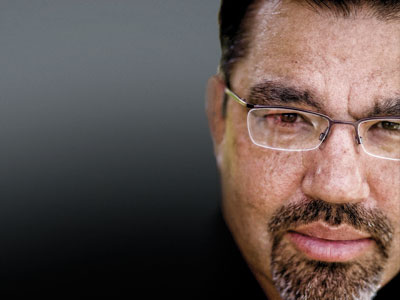 MARK DEYMAZ is the founding pastor and directional leader of the Mosaic Church, a multiethnic and economically diverse church with locations in Little Rock and Conway, Ark.
CONNECTION TO OUTREACH MAGAZINE: Mark is a contributing editor, whose column, "Ethnic Blends," appears in each issue. Outreach magazine has partnered with Mark to launch the Multi-ethnic Church Conference in San Diego, CA in November 2010.
MARK SAYS "A healthy multiethnic church is not focused on racial reconciliation. Rather, it is focused on reconciling men and women to God through faith in Jesus Christ and on reconciling a local church to the principles and practices of first century churches in which men and women of diverse background walked, worked and worshipped God together as one for the sake of the Gospel."
HOW TO LINK: Connect to Mark's blog at MarkDeYmaz.com or follow Mark on Twitter or Facebook.
GOT A QUESTION OR COMMENT? Post a comment on this page, or send an email.
BIO: A recognized leader in the multiethnic church movement, Mark DeYmaz is the co-founder of the Mosaix Global Network, a relational network catalyzing the growing movement toward multiethnic churches throughout North America and beyond. A former member of Little Rock's Racial and Cultural Diversity Commission, Mark is a contributing editor for Leadership Journal who's book, Building a Healthy Multiethnic Church, was chosen as a finalist for a 2008 Christianity Today Book of the Year Award and for a Resource of the Year Award sponsored by Outreach magazine. Mark received his doctorate from Phoenix Seminary in 2007.
VIDEO: Mark discusses Romans 1:18-32, "Let Love Reach to the Other Side."

Let Love Reach to the Other Side (Romans 1:18:32-Part Two) – Mark DeYmaz from Mosaic Church on Vimeo.
Building a Healthy Multi-ethnic Church:
Mandate, Commitments and Practices
of a Diverse Congregation
(Jossey-Bass Leadership Network Series)
By Mark DeYmaz
To order from Amazon.com: Building a Healthy Multi-ethnic Church
Ethnic Blends:
Mixing Diversity Into Your Local Church
(Leadership Network Innovation Series)
By Mark DeYmaz and Harry Li
To order from Amazon.com: Ethnic Blends