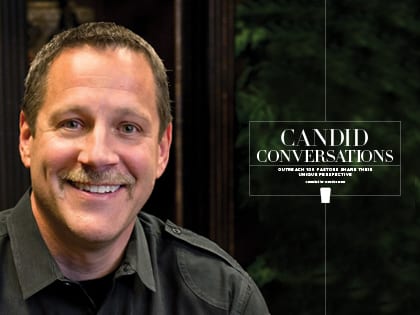 Each year, we speak with several Outreach 100 pastors in an effort to collect their honest observations about the church, their ministries and their experiences.
KEVIN MYERS
12Stone Church in Lawrenceville, Georgia

Enjoy a personal life but not a private life. Satan and high stress lure us into a secret life. So, no addiction secrets, no immoral secrets, no secret sins because in the end you are only as sick as your secrets. Build one or two "no secrets" accountability relationships—the place where you define what you aspire to while you confess your temptations and sins.
If I'm not getting some criticism or pushback or challenge, then I don't have a healthy culture. I often need improvement and seek to get better. However, I know there is a difference between a critical eye (someone who wants to help) versus a critical spirit (someone who wants to hurt). As a rule, I give no ear to people with a critical spirit. And one last confession—criticism gets to me more than I let on. Equally, if I'm not getting some praise, some affirmation, some encouragement, then I don't have a healthy culture.
As moral truth becomes relative, moral lines become adjustable. And if, in fact, America is the most biblically ignorant we have been in decades, then there is reason for concern. For the church is always vulnerable to the culture shaping "truth" more than "God's truth" shaping culture. And that sets up the church to deliver transformed faith with profound authenticity. The coming years could be the best chance for a national awakening in our lifetime. That excites me! And in the next generation, I see a group of young men and women who are hungry for real biblical truth. They want to wrestle with real questions about real life.
Technology will continue to shape how we tell Jesus' story and how we help people follow Jesus. (Likely, more people will tell their own story since everyone has a "broadcast studio" in their mobile device.) Furthermore, the church will be less and less defined by its four walls and more by its mobile app and how it connects digitally.
Smaller congregations will always have their place, but large churches are here to stay. Aging congregations who choose to merge with a growing multicampus ministry could see new life. The unknowns of political correctness, government intrusion, terrorism and national debt will affect the freedoms, options and operations of churches in America.
Read more Candid Conversations with Outreach 100 pastors »
12STONE CHURCH
Lawrenceville, Georgia
Twitter: @KevinMyersPK
Website: 12Stone.com
Founded: 1987
Affiliation: Wesleyan
Locations: 9
A 2016 OUTREACH 100 CHURCH
Attendance: 16,320
Largest: 19