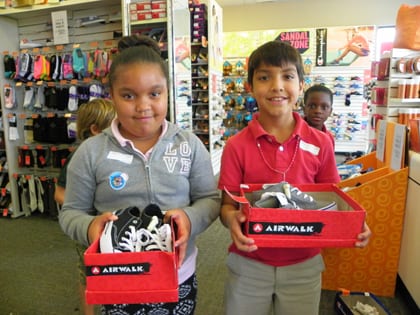 The Church: First Presbyterian Church in Vero Beach, Florida
The Challenge: Promote better self-esteem in needy children.
One Big Idea: Partner with a local agency to provide new shoes for underprivileged kids.
For 30 students at Dodgertown Elementary School, a trip to Payless ShoeSource in April 2017 meant getting a free pair of sneakers thanks to First Presbyterian Church in Vero Beach, Florida.
The church's women's ministry donated $1,000 to the Happy Feet program, which is administered through the Education Foundation of Indian River County's Sneaker Exchange program in conjunction with Payless Gives Shoes 4 Kids.
School coordinators identified the children who would receive the shoes based on the school's free- and reduced-lunch report. The children selected were treated to a trip to a local Payless, had their feet measured and got to select a pair of sneakers and socks.
On hand to help them shop was Arly Urbauer, who is co-moderator, along with Carol Marks, of Presbyterian Women.
"Everyone had smiles from ear to ear," Urbauer says. "It is such a feeling of joy you have when you give. We're hoping to do Happy Feet again in 2018."
The church's donation also paid for 20 pairs of sneakers for the school to have on hand if needs arise.
First Presbyterian, which averages 325 attendees, has committed to support Dodgertown students in other ways, including providing volunteers to work with second graders on their reading and math skills, and funding a classroom library.
"It's one of the poorest schools in the area," Urbauer says. "Helping the children is the most rewarding experience. It helps us live out the church's motto: 'Together in Service.'"
FIRST PRESBYTERIAN CHURCH
Vero Beach, Florida
FirstPresVero.org