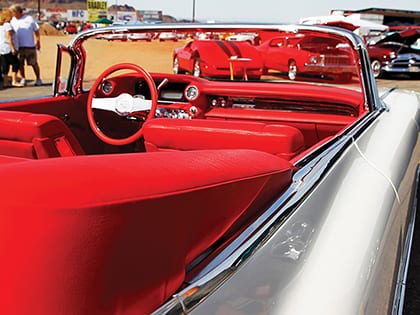 The Church: Calvary Baptist Church in Lake Havasu City, Arizona
The Challenge: Grow the church by reaching the unchurched, not the already-churched.
One Big Idea: Give the congregation the freedom to create outreach ministries based on their personal passions and interests.
Eight years ago, Dennis Lucas approached Chet Anderson, executive pastor at Calvary Baptist Church in Lake Havasu City, Arizona. Lucas was attending the church's annual car show at Havasu 95 Speedway and challenged Anderson as to why they didn't charge admission for the costly, 200-car event. He even offered a donation, which Anderson refused.
"I never met a pastor that wouldn't take money," Lucas said at the time.
Anderson invited him to church, and the next morning, Lucas and his wife showed up. This summer, Lucas was ordained as a deacon at Calvary.
The car show is an example of Calvary's "extreme mission-focus." According to Lead Pastor Chad Garrison, about 15 years ago when the church had grown to 500 attendees, he came under the conviction that "collecting traditional Christians who were relocating and doing traditional church better than anyone else wasn't what God intended." At that point, the church reoriented toward serving the community and the unchurched. Today, Calvary has grown to 1,800 weekend attendees by cutting their people loose to serve.
"We give our people freedom to create," Garrison says, "We don't know everything they are doing because every life group is challenged to be on mission. We don't care who gets credit—we care about meeting needs and allowing people to use their gifts and passions."
Calvary members have painted classrooms and hosted breakfasts for teachers. They've fed families, helped homeless people acquire homes and assisted with the city's massive Halloween party. They've offered concealed-carry classes for gun enthusiasts. If their people want to serve, church leaders cheer them on and resource them.
"On a weekly basis we give permission to every person that walks through the door to take their hobbies and ideas and use them," Anderson says. "They're constantly bringing us ideas, and we help them process and move forward."
CALVARY BAPTIST CHURCH
Lake Havasu City, Arizona
CalvaryLHC.com