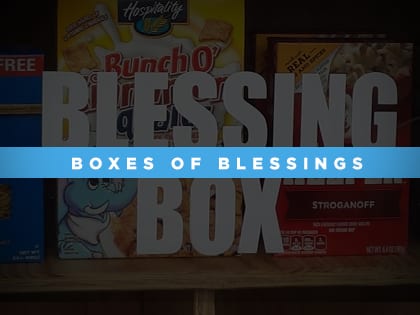 The Church: Grace Chapel in Brazil, Indiana
The Challenge: Help those in need in the community and empower others to do the same.
One Big Idea: Establish "Blessing Boxes" at local churches and other locations to provide food and other necessities.
A single mom pulled into the driveway at Grace Chapel in Brazil, Indiana. Her cupboards were empty, but she knew the wooden box at the edge of the parking lot acted as an always-open food pantry for the community. This "Blessing Box" contained nonperishable food, cleaning supplies and hygiene items. Those using the box are encouraged to "take what they need and donate what they can."
Church member Leigh Pritchard started the Blessing Box outreach at Grace Chapel after seeing a picture of one on Pinterest. "I contacted the woman in Oklahoma who started them there to find out more information," Pritchard says. "I then contacted my pastor and he agreed that it was a great idea and something our church would stand behind. I asked my husband to build the box, and on Aug. 24, 2016, our first Blessing Box was placed."
Pritchard created a Facebook page to let people know that the box was available. Soon, local newspapers and TV stations covered the new ministry, further spreading the word. Area churches contacted her, asking how they could get involved. Several young children donated their birthday money to buy items for the box and another child started a collection point at a local grocery store.
There are currently eight Blessing Boxes in the Brazil area, and six more are in the works. "We never would've guessed that by stepping out in faith and building that first box that God would grow this ministry so much," Pritchard says.
She has received messages of gratitude from people who've been helped by the boxes. "Hopefully, someone will visit a Blessing Box, take the things they need and feel the love the Lord has for them."
Find more ways to serve your community »
GRACE CHAPEL
Brazil, Indiana
GraceChapelOfBrazil.com