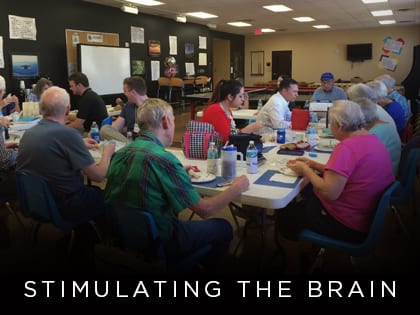 When Darrell Poole's wife, Jill, began suffering from memory loss, a nurse at a neurologist's office handed him a flyer about a program at First United Methodist Church Winter Park in Winter Park, Florida, for patients with dementia.
The program, called the Brain Fitness Club, offered a range of activities for older adults suffering from cognitive impairment.
"When I started, I couldn't draw a clock," says Jill, "but a couple of months later, I picked up a pencil and drew a clock perfectly."
Peggy Bargmann, a local registered nurse, says she got the idea for the Brain Fitness Club while working for an Alzheimer's disease support group. She wanted to create a program based on the latest research on activities that stimulate the brain.
When the wife of the then-pastor of First United Methodist Church Winter Park heard about Bargmann's plans, she encouraged the church, which has a Sunday attendance of about 700 to 900, to let Bargmann use its family life center.
The Brain Fitness Club holds two, four-hour sessions a week. Participants enjoy activities such as brain games, drawing exercises and physical fitness.
"We try to create activities so they succeed, because self-esteem is such an important part of the program," she says.
The youngest participant is 58, she says. The oldest is 88. The tuition is $1,000 per semester, but scholarships are available.
Bargmann recently helped establish another Brain Fitness Club at First United Methodist Church in Orlando, Florida, she says.
Gary Rideout, the minister of congregational care at First United Methodist Winter Park, says some club participants have visited and joined the church.
"The Brain Fitness Club sends the message that we're continuing the ministry of John Wesley, reaching out to those going through difficult times," says Rideout, "and that this is a place of healing."