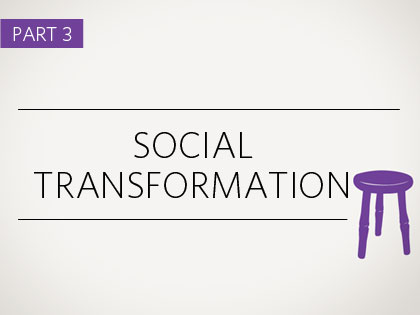 This post is Part 3 in the Community Transformation series. Read Part 1 and Part 2. 
A church that reflects its community is uniquely positioned to revive faith, restore hope and reveal love in the community. Quite naturally, social justice and compassionate ministry become part of the equation.
In 2012, Mosaic provided free food, clothing and material goods to 17,564 people from 2,563 unique households, representing 53.44 percent of the entire population residing in our ZIP code.
Here's the thinking that has helped us better serve the community's needs:
Create a community development center.
In June 2008, growing needs within the community pressed the church to provide additional support in the form of health care screening, job placement, immigration counseling and a variety of children's services. This led us to incorporate a neighborhood-based 501(c)(3) non-profit community development center, named Vine and Village.
We believe a community development center greatly enhances the development of the social leg of the community transformation "stool" for several reasons.
It has a strategic focus. As modeled in Acts 6, church leadership remains focused on the spiritual needs of the congregation while an umbrella nonprofit focuses on social justice and compassionate ministry in the community.
It facilitates an immediate launch of new programs. It can take months, if not a year or more, for an organization to be granted 501(c)(3) status. Under an umbrella nonprofit, new initiatives for community engagement can be launched immediately under the umbrella nonprofit.
It offers organizational synergy. A cooperative synergy develops between different community ministries whereby ideas, resources and programs can be shared to lower costs and increase productivity.
It gives as context for church partnerships. Through the nonprofit you can more easily enlist other churches to partner and adopt the cause as part of their own missions strategy.
It offers potential for securing additional funding. Unlike churches, nonprofits are often eligible for local, state and federal grants and are more likely to receive corporate sponsorship and/or foundation funds.
So, how can you establish a nonprofit that serves the community? Here are the steps we took: