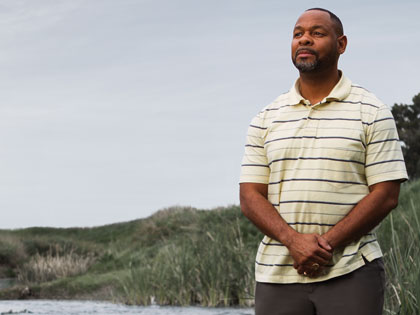 Efrem Smith is reinventing what it means to be a denominational leader by serving as a catalyst for Kingdom advancement and social transformation for the Evangelical Covenant Church. Here's his take on community engagement. 
In order for the church to embody the whole gospel, it has to connect deeply to the assets and the struggles or liabilities of its surrounding community. A church can't just be a place that preaches about the social ills or challenges of its surrounding community. It actually has to stand in the gap and be present, because that's what Jesus did. He actually lived in the midst of the challenges, the suffering and the opportunities in the community in which He ministered. We really need the church to be about that today.
When I planted a church in 2003, we were starting tutoring programs in schools and interviewing principals and community center directors way before we started having a Sunday morning worship service. So by the time we started worshiping on Sunday morning, we had already established our network and our places of serving and working to transform the community. A lot of church plants start in schools, but some of them just become renters. We shouldn't just rent space from a school; we should serve the school. The high school where we worshiped when we started had public school teachers that didn't want us there and fought to get us kicked out. But by God's grace and mercy, we stayed, and we actually saw teachers who were atheists come to know Jesus. People who wanted us kicked out ended up volunteering as ushers, greeters, parking lot attendants.
What won us over with an atheist teacher was him seeing that we didn't just show up on Sunday and sing about a God he didn't believe in. We actually served the school and the community. By serving, you actually find something that non-Christians believe in. Whether they're atheist, agnostic or Muslim, it's hard to find people who are against serving others. I can find a lot of people who are against evangelicalism. I live in the San Francisco area, so I can find you hundreds of thousands of people who are against evangelicalism. But it's hard to find a person who's against helping an at-risk kid or helping rescue a girl out of sex trafficking.
The churches that are doing the best in our conference in engaging their surrounding community are the ones who value a cause more than their Sunday morning worship. Most of the churches I oversee in our conference that are healthy and missional have a strong focus on community outreach.
It's not that the Sunday morning worship experience is not important, but we are at a place where the emerging generations care more about cause than Sunday morning services. So the Sunday morning service, to stay important and pivotal in the minds and in the eyes of the younger generation as well as the unchurched, has to be deeply tied, week after week, to causes that bring about redemptive change.
I'm not saying we should abandon the Sunday morning experience—or make it less important—but the weekend worship experiences in healthy and missional churches are much more effective when tied to causes of Kingdom advancement and social transformation.